Smart Or·gan·i·za·tion
/smärt/ /ôrɡənəˈzāSH(ə)n/
noun
Beyond just neat and tidy. The perfect balance of beauty and function to support easy, stress-free living
Andrea Walker
BEING ORGANIZED IS LIBERATING AND LIFE-CHANGING
How it all started
Andrea Walker was destined to be a professional organizer. The first inkling was when she was just 8 years old and her 2nd grade teacher told the class they could move their desk anywhere they wanted to in the classroom. Andrea convinced her best friend to move their desks into the coat area because of all the great organizing possibilities: hooks, shelves, and great wall space. Her organizing career took off from there.
Fast forward to 2010 when Andrea launched Smartly Organized to fulfill her dream of helping others enjoy the benefits of organized living: less stress, more time, and happier lives. Andrea soon discovered that she had a particular talent for creating a smooth and easy transition for clients who are moving. Although this should be an exciting time, many find the preparation, managing the actual move, and then settling into their new home difficult, overwhelming, and stressful. Andrea makes it easy!
Andrea's flair for project management and for getting things done under pressure enables her to ensure that every detail is complete. She will stage your home so that it is highly appealing to buyers while at the same time get you organized so you experience a smooth and easy move into your new home.
Once you move in, her eye for design as well as smart organization ensure that your boxes get unpacked quickly and all of your stuff ends up in a functional, logical place that also looks beautiful.
Passionate about organizing, Andrea earned the coveted Certified Professional Organizer (CPO®) designation in 2015. She has also served seven terms on the Board of Directors at the Northern New Jersey chapter of the National Association of Productivity and Organizing Professionals (NAPO). Most recently as Chapter President 2015-2017.
Smartly Organized is your best choice if:
✓ You want an organizer who is completely focused on and invested in creating your smooth move. Beth K., Chatham, NJ
✓ You want the work done fast and efficiently. Jen M., Madison, NJ
✓ You appreciate working with a problem-solver who will ponder all angles, bring fresh perspective, and offer creative customized solutions. Lisa H., New Providence, NJ
✓ You want someone trustworthy to take care of the details. Nicki K., Summit, NJ
✓ You dream of an on-demand advisor who is available to provide expert guidance and input as you make the many decisions related to your move. Kelly D., Collegeville, PA
✓ You appreciate polished practicality – a common sense approach with an eye toward beauty and design. Donna L., Chatham, NJ
Moving Out: We make it Smooth & Easy
Moving In: Feel at Home on Day One
Staging your Home: Redesign for Results
Managing your Move: Total Relief
Are you a Realtor?
We have partnered with many local realtors to achieve remarkable results: quick sales, multiple bids, and smooth transitions.
We look forward to the opportunity to serve you.
Call 917-846-9953 to learn more about working with our team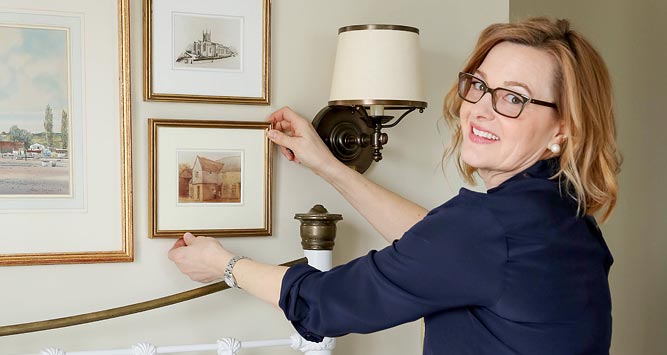 Each time Andrea and I have worked together the results have simply surpassed my expectations.
Our projects have ranged from small to large–and Andrea is willing and able to accommodate all the different client needs I encounter. She has tackled everything from budget-sensitive, quick re-arrangements for staging purposes to months-long clear-outs, cataloging precious possessions, storing, removing and preparing a property for a sale after decades spent at a much-loved home.
When a home is organized and well-staged the buyers feel more confidence about the way the home has been cared for. When a seller can move on to their next home in an organized fashion, the seller is more relaxed . And when the home is showing at its best the Days On Market are shortened and a better sales price is generally the result. So I know this work is valuable, not only to the buyer and seller but to me as the marketer of the property.
I know that when I call Andrea I will be met with astounding creative energy, problem-solving skills and a willingness to work with the various needs of the client and the home. She is sensitive and gentle with my clients yet gets the job done efficiently and always on time. I am delighted that I can call on this tremendous resource in Andrea and Smartly Organized!
Linda Scott
I love partnering with Andrea and turn to her for help with pretty much all my listings. She is super organized, very practical and has a great design eye. She is also very flexible and able to adapt to the particular needs of different homeowners. I have had quite a few occasions where Andrea has literally "saved the day" with practical, inexpensive and stylish solutions to help my clients. Generally my listings sell quickly and I attribute that in large part to Andrea's help in getting the home ready to list. She is probably the most resourceful home stager and move organizer that I have met and great fun to work with.
Warm Regards
Janet McKeown, MBA
Stay in Touch with Andrea & Smartly Organized