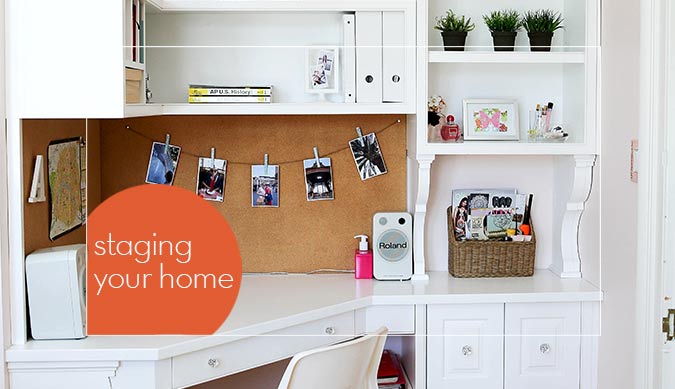 Setting the Stage for a Successful Sale
With so many homes for sale, you want to make sure yours stands apart so you sell quickly and maximize the sale price. First impressions count. Over 90% of potential home buyers will search for homes online before deciding to visit in person. As the saying goes, "A picture is worth a thousand words." Be photo ready!
At Smartly Organized we bring a fresh set of eyes to your home – seeing what you may no longer notice. We work with you to make your house shine by decluttering, de-personalizing, and neutralizing the space. Our goal is to emphasize your home's strengths and unique features while de-emphasizing any potential shortcomings. Unlike typical stagers we offer hands-on organizing and pre-packing during this process to prepare you for your ultimate move.
We identify what needs to be repaired, updated, discarded or donated and then arrange for that to happen. Then, using what you have we create a warm and inviting look and feel that appeals to your ideal buyer.
A well-staged home attracts more buyers and leads to better results meaning you have less to worry about.
Our proven process leads to real results. Smartly Organized, LLC is here to help you get the best buyer-and price-for your home.
Our methods include:
Transforming your home using items you already own, saving you money;
Highlighting the unique features of your house while de-emphasizing the negatives, making your house more appealing to buyers;
Re-arranging furniture for optimal flow and arranging accessories so that potential buyers can envision living there;
Using redesign tips and tricks that appeal to home buyers;
Providing color consultation services for painting, using colors that are known to attract buyers.
We create a step-by-step plan so you know where to start and what to do to fix any problems. Working together we help you figure out what, where and how to store your stuff so it is out of sight when potential buyers come to see the house. We also show you how to corral the chaos and keep it neat so that you can easily be ready to show the house at any time.
What do you get?
Total confidence that you've done everything right to get your house ready for a super fast sale.
Incredible photos that make your house stand out from the crowd.
Great immediate results as soon as your listing goes live.
Getting our house ready to sell when we had 3 little kids living in 1,500 sqft was stressful and challenging! Then, our realtor sent over an amazing stager, Andrea Walker. She problem-solved with me and came up with creative solutions to storage problems and room layouts that I had been having for 8 years!! By the end, every toy had a home, every closet looked spacious, and our house sold for $35,000 over the asking price!
Katie G.